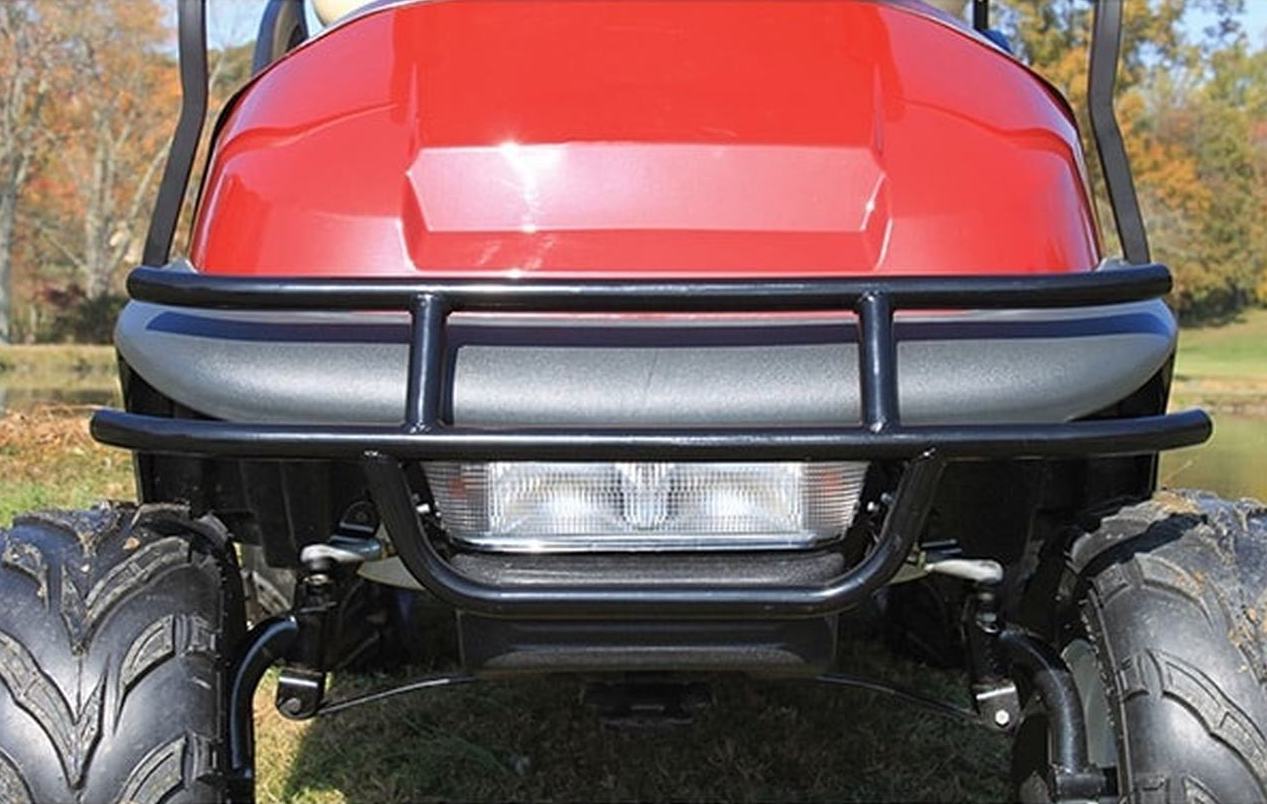 Be prepared to get the most out of your golf cart by having some essential hunting accessories. It can be a challenge to find a perfect ready-made hunting golf cart, but it's easy to convert a standard golf cart into a hunting cart.
Customized parts can help turn a simple golf cart into the perfect hunting vehicle. There are many ways to accessorize your golf cart to make it hunting friendly.
Follow this guide to build the perfect hunting buggy
Safety Accessories for Hunting
Gun Holders
There are a few items that you should always have for hunting, and a gun holder or gun rack on the cart is one of them. Having a gun holder is important from a practical as well as safety standpoint. Properly securing your gun is essential, especially when you're driving your cart over rough terrain and bumps. Install a gun holder onto the cart and free yourself from worrying about the gun being loose.
Headlights
Headlights help you to give clear vision in low-light, especially in bad weather conditions. You can also add anLED Spotlight for a super bright spotlight that's perfect for seeing even in the darkest conditions.
Bumper Guards
Add some extra durability to your hunting cart by installing a bumper guard. These bumper guards also improve the overall look of your cart.
Comfort Accessories for Hunting
Roof Racks
Most golf carts do not have ample storage space for activities such as hunting. Golf cart roof racks are a great addition when it comes to storage. No matter what you are hunting for, it'll be easy to carry your hunting stuff with a roof rack. For extra storage, you can also get heavy-duty storage racks. You can easily find suitable sizes and styles of storage racks on the market.
All-Terrain Tires
Enhance your cart's hunting performance with all-terrain tires. These tires are better equipped for going off the beaten path. While a golf cart used for golf does not need all-terrain tires, a hunting cart is certainly incomplete with out them.
Flip-Down Rear Seats
When you plan to go out hunting with family or friends, you need to make sure that you have enough space on the cart. The rear seat will add extra space to sit in the back. There are many types of rear seats out there, but we recommend a flip-down golf cart seat that can also be used for storage when not being used for extra seating.
Golf Cart Care Accessories For Hunting
Floor Mats
Floor mats are placed in a cabin area to protect the cart's interior from dirt, mud, and other substances.
Fender Flares
When you're in the country, fender flares will keep the dirt, mud, and other substances off of you and the golf cart.
Apart from protection, it will also add a touch of a custom look. These fender flares are installed right above the wheel and can be made from different materials.
Ready to Convert your Golf Cart into Hunting Buggy?
There are many options to choose from to help customize your hunting cart. If you are looking to purchase golf cart hunting accessories, check out our hunting category.
For any questions, call us at 800-401-2934 and talk to an expert!
Published February 9, 2021 by Golf Cart Garage