You may have noticed that over the years, more and more golf cart communities and golf cart retirement communities are popping up all over the country. From the most modest stock designed models to some super fancy and flashy carts customized right on down to the smallest nuts and bolts, golf carts are an incredibly popular mode of transportation in so many communities around the country.
If you ask any golf cart owner or golf cart enthusiast, you will likely here them tell you that, golf carts are not only about the ease of maintenance and convenience, but also that they are just plain fun to own and drive around. In addition, golf carts are wonderful, because of:
1.) Lower Speeds: With lower speeds, golf-carts are a much more economical and safe way to get around. They also give your friendly passing neighbor the opportunity to wave and say "Hello!", which garners a real wonderful sense of community while admiring and enjoying the beautiful scenery.
2.) Cost Effective: Even the most dazzling brand new golfcart models cost much, much less than even the most reasonably priced used economy cars, all the while still giving you the same exact functions of cruising/transporting your friends and family, and running up to the store for some groceries.

The planners and designers of the finest golf cart communities around the country have taken a great deal of notice to the trend, with most, if not all communities offering:
Golf cart specific parking lots

Specialized garages

On-site mechanics and cart dealers

Miles upon miles of beautiful golf cart trails

We've put together this list of our favorite and most highly recommended golf cart communities that welcome with open arms, golf carts and golf cart enthusiasts!
1. The Villages
Without mentioning The Villages Golf Cart Community Florida, any golf-cart friendly list of communities would be totally incomplete. For those 55+, this community in so many different ways, is in a class of it's own.
Boasting over 100 miles of golf cart-only trails/roads, The Villages holds 150,000 residents, and counting! Every amenity that you might need can be found within the The Villages community and are all easily accessible via your golf cart! Grocery stores, restaurants, clothing stores and boutiques, doctor's offices, post office, the list goes on and on! The Villages also has many golfcart dealerships, in addition to their own on-site mechanics for routine repairs, Golf Cart Tune Ups or installation of fancy Customized Golf Cart Parts.
The Villages, FL also throws an annual golf cart parade where golf-cart owners can show off their wheels while socializing with other owners. Be sure also to check out their golf cart drill team!
Overall, there is a real sense of community and friendship in the tight knit community of The Villages. You won't be sorry choosing to retire in this beautiful golf cart community!
2. Peachtree City
Located in the beautiful "Peach State", Peachtree City Georgia has everything that the 55+ retiree would want, in addition to young families. Unlike many golf-cart communities, Peachtree City is for people of all ages!
For young families, they will love hopping in the golf cart and taking the kids to the library, or to the local ice cream parlor for a banana split.
However, if you are in your retiring years, Peachtree City, GA is a wonderful place to live and spend your retirement (especially if you love golf!).
Peachtree City boasts with community spirit. You will especially feel the community spirit during their annual 4th Of July parade, complete with a patriotic show at The Fred (the local amphitheater), a fireworks show that will knock your socks off, and yes, you guessed it - Decorated golf carts!
Golf carts there, as you would imagine, are a favorite and main mode of transportation. With designated golf cart parking lots, networks of golf carts trails and roads, you'll find it's a breeze getting around your neighborhood! No need for full size vehicles here! everything you could dream of is located right at your own front door:
Restaurants
Clothing Shops
Grocery Stores
Doctors Offices
And so much more!
And don't worry if you're out and about with a golf cart that's running out of "juice". If you don't have immediate access to your Golf Cart Battery Charger at home for a charge, they've got you covered. Peachtree City has electric golf cart charging stations set up along the way!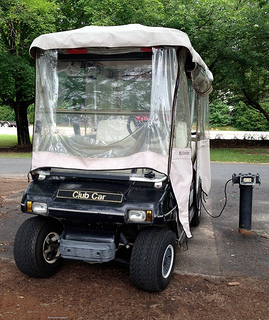 The laid back southern charm of Peachtree City will make you feel as though you're on vacation everyday!

3. Laguna Woods
Laguna Woods Golf Cart Community is located just 10 minutes from the Laguna Beach, California coastline. This bright and sunny Orange County golf cart community is fully suited for you to get around via your golf-cart. On 3.8 square miles of open hillside, folks 55 and over will love cruising around on neighborhood roads and cart-designated paths and crossings that accommodate this 12,000+ home community.
Countless services, amenities, activities and social opportunities, gives Laguna Wood's, CA residents everything they need to enjoy their retirement and every day life, without going much farther than your own front door.
You will love to easily visit neighbors and friends in addition to playing a round of golf on the beautiful 27-hole course, located right on the communities' grounds there in Laguna Wood's.
Forget those smelly exhaust fumes and engine noises! Electric golf carts are especially popular in Laguna Woods.
Lower speeds and relaxed living will give you the time to take in the manicured grounds, stunning valley views and lovely scenery.
4. Sun City
Often called " The One That Started It All" by many golf cart retirees, Sun City Golf Cart Community in Arizona was the first and original golf cart community in the country.
Now a museum, the first model home in Sun City, AZ was built by Del Webb in 1960. To this day, the community still continues to set the standard for all adult communities across the country, as it continually refines it's amenities and offerings to the needs and expectations of it's residents.
Sun City set the stage for many golf cart communities you see today, allowing residents to bring their golf carts off of the golf course, Equipping Golf Carts To Be Street Legal and onto the main roads for visiting neighbors and daily errands. Thankfully now, miles upon miles of golfcart-specific trails and paths gives residents the ability to comply with traffic laws while safely travelling through the community.
To give you the best of both worlds, many of Sun City's homes have specifically designed garages that give you the opportunity to hold both a standard, four-door vehicle, in addition to your main form of transportation - Your golf cart.
The golf cart community hasn't taken the name "The Original Fun City" for nothing! You'll find so many fun things to do here as you kick back and relax. You might even be able to catch one of their many "nights out", where you will enjoy live cover bands, delicious food and a little soft-shoe with your friends!
5. On Top of The World
It's all in a name! On Top Of The World Golf Cart Community in Ocala, Florida is a golf cart owners paradise! On Top of the World is voted one of 'Where to Retires' "50 Best Master-Planned Communities In The U.S." (and rightfully so!)
Boasting three 18-hole golf courses positioned throughout the 10,000+ home golf cart community, you will find everything you need right at your doorstep!
The social hub of this golf cart community is the Circle Square Commons. There, you will find endless entertainment! Cafes, shops, restaurants, even their very own private movie theatre!
Whether you're hanging out with friends and neighbors, dining out or catching an early movie, everything you need will be at your disposal at On Top Of The World. Oh, and don't forget to check out their R/C Flying Field!
Golf carts are so popular at On Top Of The World that they have dedicated miles upon miles of cart-specific trails. You will have no problem getting where you need to go with the extensive network and connection of these golf cart trails and roads. You will definitely want to make sure that your ride is equipped with a Golf Cart Rear Seat Kit for all of the cruising that you will be doing with your friends!
If you were to ask the residents of this golf cart community, how they feel about living there, you would hear things like:
"I love living here – Let me count the ways!"

"Living in On Top of the World has far exceeded our expectations!"

"We have many so many new friends here. Who could ask for anything more?!"
With a name like 'On Top Of The World', you truly can't go wrong!
With all of these golf cart communities to choose from, what will be your next paradise?
Looking for more? We have so many awesome Golf Cart Related Articles for you to check out!