Extreme Golf Cart Makeover (Finale)
Welcome back to the Garage for the Extreme Golf Cart Makeover Season 2 Finale! You've been waiting for it, and we know you're excited. So stick around to see how our 2006 EZ-GO TXT was transformed into something amazing and who won the $3000 grand prize in our sweepstakes, or better yet - read about it below.
The Transformation Journey
We started by tearing down the cart to prep for all our customization.
Height: We checked out the height before lifting and, at the end of the project, realized an 11-inch height increase from 66.5 to 77.5 inches.
Speed: We had a speed of about 13 miles an hour when we brought this cart home. With the help of the same smartphone app that we used in our first test tells us that our work resulted in a five-mile-per-hour speed increase bringing us up to the right at about 18 miles an hour.
Accessories We added
Lift Kit - We lifted the cart with a 5-inch drop axle lift kit from Madjax.
Wheels - We installed 23-inch predator tires on 14-inch GTW spider wheels. These looked great and made it much easier to get under the cart for other installs.
Body Kit - We chose a Madjax Storm body kit in the cherry metallic red finish, which was delivered quickly in small boxes, and was actually a lot of fun to install. We must say, this is one of the best body kits we have installed. It really stands out and provides an excellent look for your cart!
Golf Cart Seats: We added magic Tsunami seats next in black with liquid silver and grey on the front and matching cushions on the genesis 250 rear seat kit. So many great features on this, but chief among them was comfort and innovation in these beautiful American stitched seats.
Rooftop: Later, we reinstall our struts and put on a custom extended top sail rooftop from Red-Dot. This American-made canvas top is a unique sun shade that was an interesting project to assemble and install as it has a great low-profile look.
Windshield: For the windshield, we chose a Red-dot windshield that's great quality and made to fit the front cowl of the storm kit perfectly.
Brush Guard and Armour Nerf Bars: After we had the cart mostly rehabbed, we added some final installs in our last episode to include the storm kit brush guard and armor nerf bars with drop-down steps to complete the exterior. Madjax products like this are tough-coated and really help put the finished look together.
Floor Cover: We kept our accent color scheme by installing a carbon fiber floor mat to give that sleek custom look to the interior.
Dash Cover: To give our car a high-end look, we installed carbon fiber dash cover assembly. It's another time when documentation of electrical connections and photos were helpful!
Steering Wheel: With the carbon fiber theme continuing, we installed a customer GTW rally-style steering wheel. This is one of our favorite parts because it comes with the accents molded in, as opposed to color inserts you self-install, and looks great with everything else in black or silver!
Side and Rear Mirrors: Later, we added side mirrors and an extra-wide 180-degree panoramic rear-view mirror. Installing these mirrors is simple; they come with everything you need to install them.
Final Touch: After we finished the mirrors, our little mechanic had an interesting idea, so we ordered some Ohio State Buckeyes fathead decals to complete the theme with our color scheme. We, of course, tested this out on some old material and some other surfaces to ensure that it wouldn't cause damage to our work if someone else wanted to remove them someday.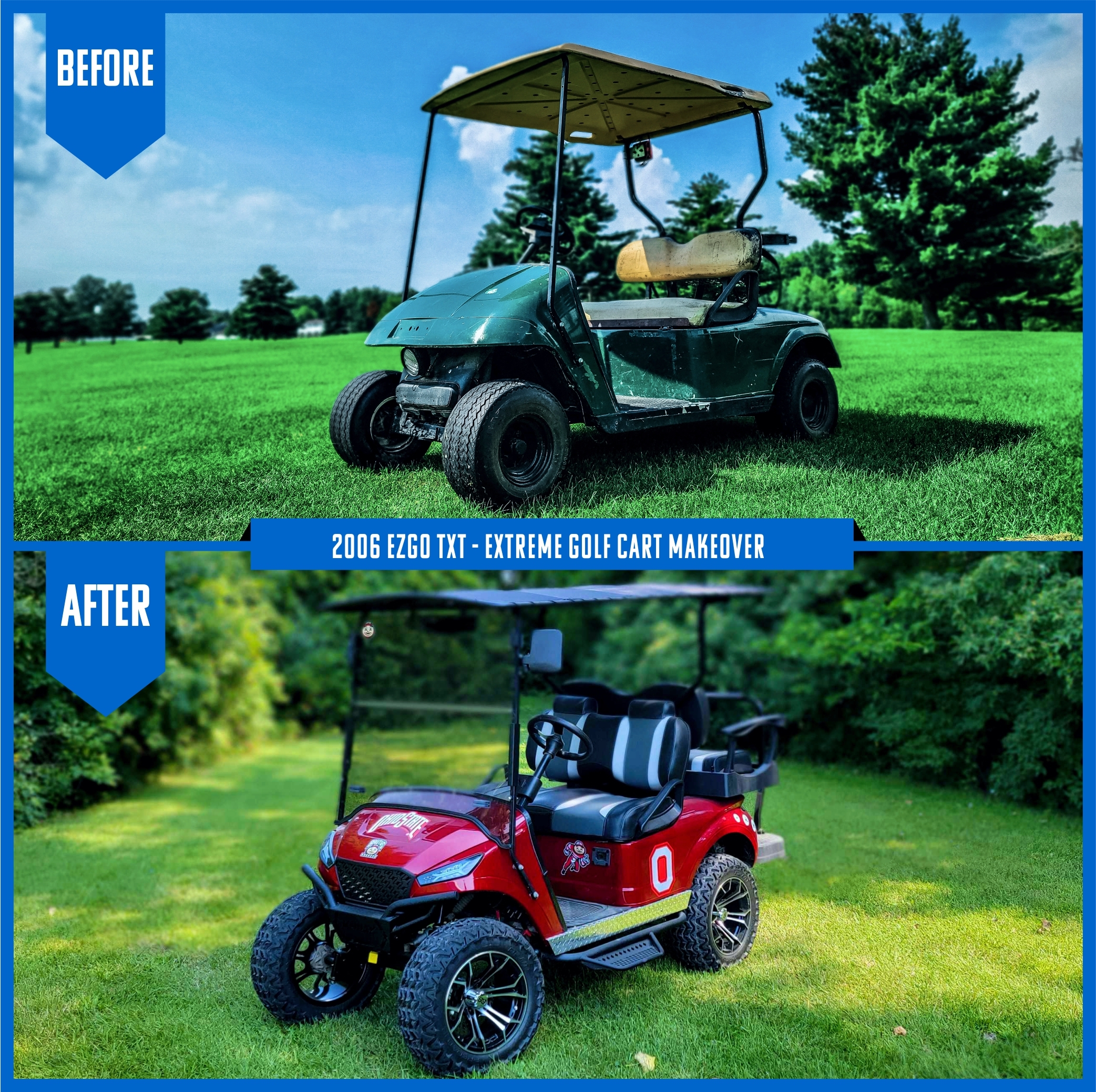 And, say Hello to "Brutus"
Every GCG cart gets a name when it's done, and we've decided to name this one "Brutus" after the OSU Buckeyes mascot.
Do Share Your Ideas With Us
We're always happy to help our customers make their Extreme Golf Cart Makeover dreams come true. If you have an innovative idea or favorite color scheme in mind, don't hesitate! Reach out and let us know so we can start creating the perfect design for your project today.
Winners of the Month and Season
The winners of the monthly sweepstakes have been announced. Visit our website to see who won.
What Next?
We hope you all join us for some more extreme golf cart makeovers. Coming soon, we'll have another mini-season 2.5 to share our work in three different makeovers on our Club Car Precedent before we move on to other projects. So, stay tuned!
Just stop by Golf Cart Garage or connect with us if there's anything we can do to help with your project.