Club Car DS (1984+) DoubleTake Spartan Golf Cart Body Kit with Grill Insert
IsthebodyofyourClubCarDSshowingsignsoffadingandfracturing?Wouldyouliketorestoreittoitsoriginalcondition?Itmaybetimetoreplacethe worn-out bodyofyourvehicle.ConsiderinvestinginanewbodykitforyourClubCarDS,andenjoydrivinginacartthatlooksasgoodasnew.
Description:
Introducing the Club Car DS DoubleTake Spartan Golf Cart Body Kit - a game-changing option to customize your ride without the hassle of traditional wraps. With its glossy finish and durable ABS Acrylic Plastic material, this Titan Body Kit will undoubtedly turn heads on the green. And with flexible options in ordering either the full front body kit or just individual sections, personalizing your golf cart has never been easier.
Don't settle for boring - upgrade your Club Car DS (1984+) with this stunning body kit today!
Features:
(1) x Brand New SPARTAN Front Cowl piece

(1) x Brand New SPARTAN Rear Body piece

High-impact, long-lasting ABS/acrylic structure

Color-through, high-gloss finish

Choice of 20 colors

Shipped via freight with a plastic sheet for protection

Cut-outs for the headlight and taillight

Grill insert in the automotive style

Just remove your old body and replace
Please note: A DoubleTake Spartan Light Kit is Required for this body kit. The body kit comes with pre-cut light holes, so if you do not have the DoubleTake Spartan light kit already, you must order one in addition to the body kit.

Real Life Golf Cart featuring our DoubleTake Spartan Golf Cart Body Kit




Looking for even more? Check out our full selection of Golf Cart Body parts. If you need help finding what you're looking for or just have general questions or comments, our dedicated sales and customer service team is on standby to answer any and all questions. We want to hear from you! Give us a call at 800-401-2934 or shoot us an email at support@golfcartgarage.com.
Color-Matched System
Customizing your cart to the very last detail can be as much fun as driving it! That is why we love DoubleTake's Color-Matched System, which is a complete array of golf cart accessories to match the color of your body pieces.
Take a look at all the accessories that will along perfectly with your Spartan body kit, here.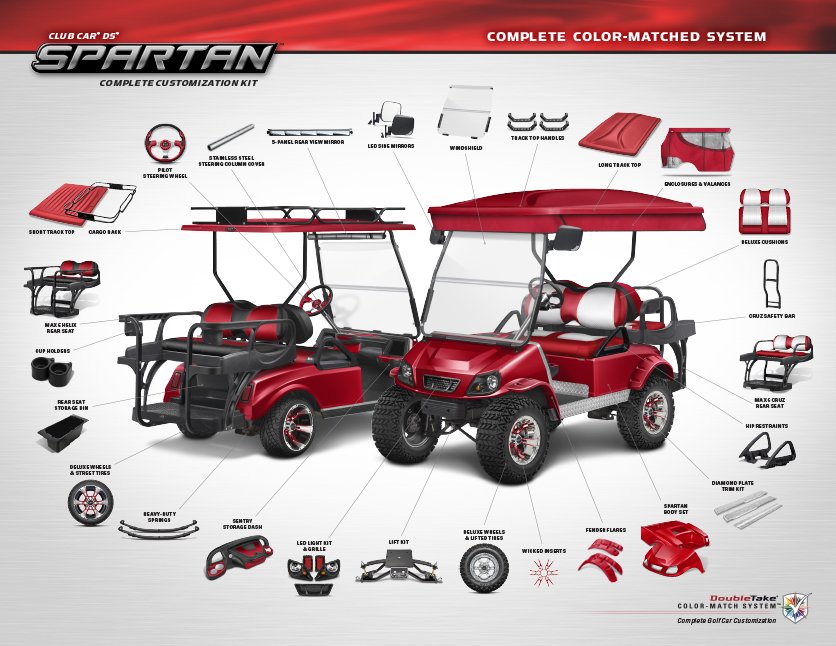 Special notes
Please note:
If your cart is electric, a voltage reducer is necessary to run the lights. We recommend a 26-60V to 12V/30 amp reducer, you can review that item here: here.
Shipping times are delayed for Seat Cushions Only. All seat cushions will take approximately 2-4 weeks to ship.
This item ships via LTL freight. Please be sure to inspect the item before signing the delivery receipt provided by the freight company. Damage must be noted at the time of delivery to avoid claim denial. Any damage claim that is submitted after the delivery receipt has already been signed will be denied.
GOLF CART NOT INCLUDED. This kit is for use on your existing Club Car DS golf cart.

Financing for 12-36 Months**,
0% APR Available for 12-Month Financing**

Fast and Easy Process

No paperwork here! Check your rate in seconds. If you pre-qualify, review and select a payment plan to complete your purchase.

Payments As Low As

Choose Bread, make your initial payment, and enjoy your Club Car DS (1984+) DoubleTake Spartan Golf Cart Body Kit with Grill Insert.

Flexible Monthly Payments

Pay off your Big Fig over time with different payment plans up to 36 months at competitive interest rates.**

Katapult offers alternative financing for people with low or no FICO scores

No Credit Required

We'll approve you up to $3,500 without looking at your FICO score.

Pay Over Time

Make your minimum term payments and you'll own Club Car DS (1984+) DoubleTake Spartan Golf Cart Body Kit with Grill Insert, or buyout early and save.

Flexible Payments

Katapult sets up your payments to match your pay dates.
Reviews