Club Car EZGO & Yamaha Common And Most Ridiculous Uses
Not just for the golf course anymore! We all know that Club Car, EZGO and Yamaha golf carts are used for golf, but more and more around the country (and the world!) you will see golf carts popping up all over the place, not just at the golf course. With a multitude of purposes, the uses for a golf cart are endless. You might be wondering "What ARE the uses for a golf cart besides golf?" Well, we have created this super easy to read list that gives you insight into the world of golf cart uses, not just for golf!
Hunting / Fishing
By far, one of the most popular non-golf related uses for a golf cart is hunting and fishing. For many reasons, a golf cart is becoming a much preferred choice over other vehicles such as ATV's, UTV's, etc for hunting and fishing for a multitude of reasons.
Noise Level: A good majority of ATV's and UTV's are gas powered, which makes them pretty noisy. For obvious reasons, a noisy vehicle while out in the woods is not what you want. You do not want to scare away all the deer! Electric golf carts for hunting are super popular because they are quiet.
Passenger Capability: Unlike many other forms of transportation for hunting and fishing, Club Car,

EZGO

and Yamaha golf carts are perfect for carrying multiple passengers. Many other transport options can carry only 1 or 2 people at a time. Golf carts have the capability to carry up to 6 passengers. Great for when you and all your buddies head out for some wilderness fun!
So, load up your Golf Cart Gun Rack, Golf Cart Cooler grab some friends and hit the trail!
Law Enforcement
More and more law enforcement has been utilizing electric golf carts and gas golf carts for catching perpetrators and keeping small, close knit neighborhoods safe and sound.
Most golf cart communities, golf cart retirement communities and golf cart enriched areas such as island towns and vacation hot-spots even have their own police departments with their own fleet of golf carts that they use for law enforcement. For example:
Kelleys Island: The largest American island in Lake Erie, located in the western basin of Lake Erie about four miles north of Marblehead and twelve miles from Sandusky on the Ohio mainland, the entire island measures more than four square miles and is packed full of golf carts. In fact, golf carts are their main form of transportation for residents, visitors AND their own police department.
Complete with flashing red and blue lights, police golf carts have everything a full size police car has, just in a smaller package!
Plowing
You may think we are crazy, but hear us out. Yes, golf cart plowing is a thing! Club Car, EZGO and Yamaha golf carts (along with many others) are heavily utilized in many areas for plowing services and several manufacturers, produce a plow that fits perfectly on the front of a golf cart.
Golf cart communities and golf cart retirement communities generally have miles and miles of trails that are only accessible to golf carts. How else can you plow them, if not for a golf cart? Enter golf cart plow "truck"!
Golf Cart Food Truck
We all know about the infamous 'Beer Cart' that you see out on the golf course, but did you know that accessorized golf carts are being used as mini food trucks? Yep! How cool is that, right? More and more, you will see electric golf carts being used for an eco-friendly food truck alternative.
Cupcake Cart

Taco Cart

Coffee & Doughnut Cart (A personal favorite of ours!)

Burger Cart
The possibilities are endless!
Next time you are at a music festival, sports game or outdoor shopping mall, look around you. I bet you will see a golf car filled with delicious savory confections zipping around!
Farming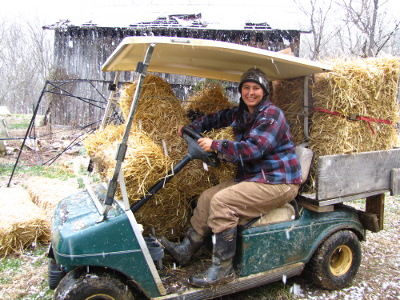 Daily, we speak with so many golf cart owners who utilize their golf carts around their farm. Golf carts are are the latest "must have" item for family farmers, ranchers and growers.
Undoubtedly, one of the most popular carts for farming is the John Deere Gator. Iconic for many reasons, the John Deere Gator comes in a gas model and also in an electric model. The electric model runs off of a John Deere Gator Battery Charger and is built to withstand many challenges that you might find on a farm or ranch.
With an inexhaustible supply of carts in the world, it is so easy to modify a golf cart with golf car parts and golf cart accessories to accommodate your needs.
Most farms design converted golf carts to have Golf Cart Utility Bed, electrical plugs for running herbicide/pesticide sprayers and mounted spindles on the back for stretching wire fencing.
All of these golf cart modifications allow farmers to:
Haul plants, flowers and fertilizer

Haul animal feed

Carry tools
Golf carts for farming are also also excellent for running dogs, horses and other farm animals. You can relax and tote along in front or behind your animals while they get their exercise!
Weddings
If you are newly engaged or planning a wedding, incorporating your golf cart into the ceremony, reception or both can be super beneficial to you for a multitude of reasons!
We have seen more than a few great ways to use a golf cart to your benefit on the big day. Rain or shine, the golf cart has you covered!
Decorated Golf Cart: Make your wedding golf cart your own! Decorating one special cart for the bride and groom allows for even more creativity and personalization. Use things like fresh flowers, streamers and other color-coordinated decorations. Tossing on a "Just Married" banner for after the wedding is such a cute idea also!

Guest Transport: If you are throwing a big wedding and are worried about getting all the guests where they're going, do not fret. Simply rent golf carts with a larger capacity! There are many golf cart option that can seat up to 8 per cart. Your guests will love to spend time talking and catching up on their way to and from the ceremony and reception.
Using a golf cart on your wedding day can not only give you peace of mind, but that little added dose of spunk and creativity! And don't forget to equip your golf cart with a Golf Cart Cover. Although it has been said that rain is good luck on your wedding day, nobody wants to be soaking wet at the altar!
Off-Roading
You may think that off-roading is specific to full size cars. Not anymore! More and more, golf cart enthusiasts are turning the ordinary golf cart into a lifted monster machine, capable of climbing and trudging through even the most rugged areas.
Because you cannot feasibly take a stock golf cart with no golf cart modifications, off-road lifted utility golf carts need to be "souped up" with parts that are capable of crawling out of even the deepest mud pit. Parts like:
Golf Cart Brush Guards

Golf Cart Fender Flares
In the words of country music star, Jason Aldean: "You got to get a little mud on the tires."

Limited Mobility / Disability Transport
Handicapped accessible golf carts for the disabled or those with limited mobility are excellent for regaining independence and all-around confidence.
For many reasons, a customized golf cart instead of a car for disabled folks has a multitude of benefits:
Accessibility: A golf cart is not too low to the ground, or too high off the ground, but rather a happy medium so, they are easy to get in an out of. No major bending/stretching
Speed: With slower paces, your Club Car golf cart, E-Z-GO golf car or Yamaha golfcart is a much safer option.
There are also many golf cart modifications that can be made to accommodate things like wheelchairs, walkers, etc.
Dual Wheelchair Golf Cart: Dual wheelchair golfcarts are capable of carrying two wheelchair passengers in a comfortable forward facing position at the same time.
Rideabout Golf Cart: Rideabout golf cars is designed to carry one or two wheelchairs (depending on model) comfortably and securely in a forward facing position. Rideabout golf car models are designed for easy access with a lowered floor, manual or powered ramp, tilting driver seat and secure floor clamps.
Runabout Golf Cart: Runabout golf carts are designed to be driven directly from a wheelchair or power scooter. This will add incredible range, speed and comfort to those who wish to have the ability to drive themselves.
Because of theses innovative golf cart designs, disabled folks can still enjoy the freedom of a warm breeze on a sunny day!
Do you have a unique golf cart or a golf cart that you you use for purposes other than golf? If so, we would love to see it! Shoot us a picture on Facebook!
Further Read
Golf Cart Brands - A Complete List of Manufacturers
How To Make Your Golf Cart Go Faster (Top 6 Ways)