Golf Cart Upgrades & Accessories That Will Make Your Friends Jealous
Club Car, EZGO and Yamaha golf carts are a great way to leisurely cruise around your neighborhood to stop and smell the roses or visit with your friends and neighbors. However, some folks are looking for more than that from their golf buggies.
There is no reason to stick with the "run-of-the-mill" / "off-the-lot" stock golf cart models if you are longing for a rougher tougher "souped up" accessorized golf cart look that will make all your friends jealous. With so many golf cart upgrades to choose from, where do you start? We have put together 10 easy ways to skip the truck or ATV and make your golf cart rough and tough ready, for any weather, terrain or even just for looks!
Meaty Tires
Heavy duty tires and wheels are one of the must-have golf cart upgrades for any rough and tough golf cart. Most stock golf carts come with 8" golf cart tires. 8" golf cart tires (street tires) are perfectly fine if you are planning to only be driving on asphalt / pavement. Smaller street tires are more efficient and use less power. In most cases, street tires that are on the smaller side are great for most uses.
But, smaller golf cart street tires are certainly not suitable if you plan on bumping up and down on rocky, hilly, rough off-road trails and paths. For this, you will want some meaty All-Terrain Tires. All-terrain golf cart tires are made to withstand even the roughest terrains, with deeper treads and larger sizes. You will no problem tackling the tough stuff!
Jack It Up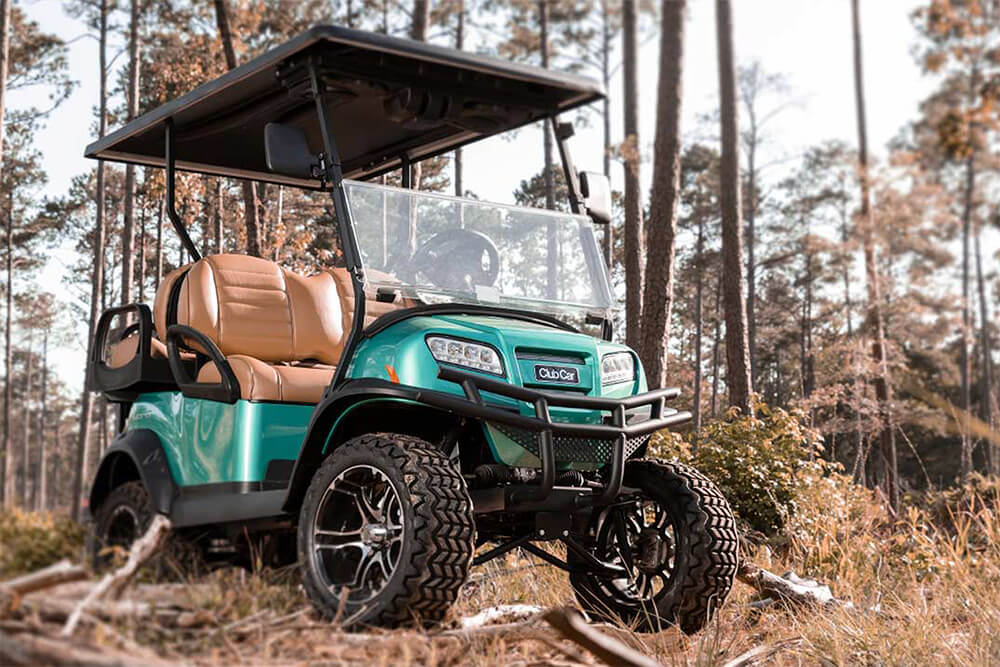 Installing a Golf Cart Lift Kit will give you between two and six inches of a lift and is one of the necessary golf cart upgrades, not only if you plan on installing all-terrain / off-road tires, but also, if you want your golf cart to have a more rugged appearance. A lifted golf cart can also improve your driving experience as a lift allows for a smoother, sometimes faster, less bumpy ride. There are a multitude of different lift kits to choose from and whichever you decide to choose, is merely based on personal preference.
Flare Those Fenders
If you are planning on using your golf cart when it is raining outside, or if you are going down paths that are muddy, Golf Cart Fender Flares are a must. Fender flares for golf carts will not only help you stay mud-free, but they also help to keep any of your passengers or extra riders mud-free. We all like splashing in the mud and puddles, but the laundry afterward... Not so fun! Fender flares for golf carts are also super quick and easy to install.
Battery Boost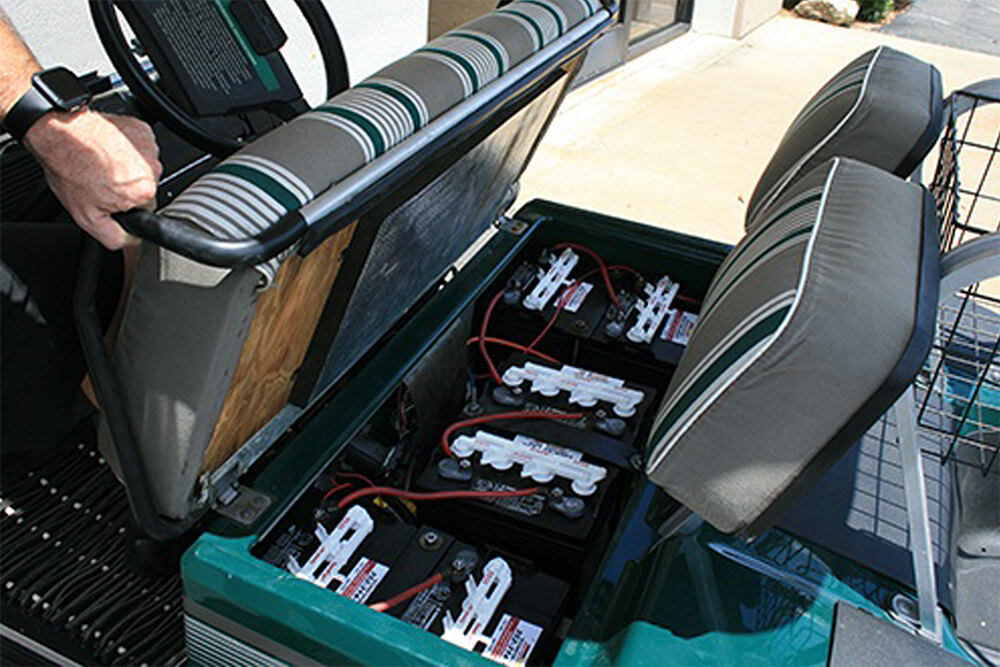 You are probably asking yourself, "What do they mean by battery boost?". Well, it is quite simple. If your current battery voltage is 36 volts, you might consider upping your battery voltage to 48 volts. This will give you more speed. You may also need a new Golf Cart Speed Controller to go along with higher voltage Golf Cart Batteries, which will give you even more speed. A new Golf Cart Battery Charger will also be needed for the voltage change. A golf cart engine upgrade is a good way to upgrade all around power as well. With all of these new golf cart parts installed, you will not only gain speed, but torque and boosted voltage. A win-win.
Get Brush Guards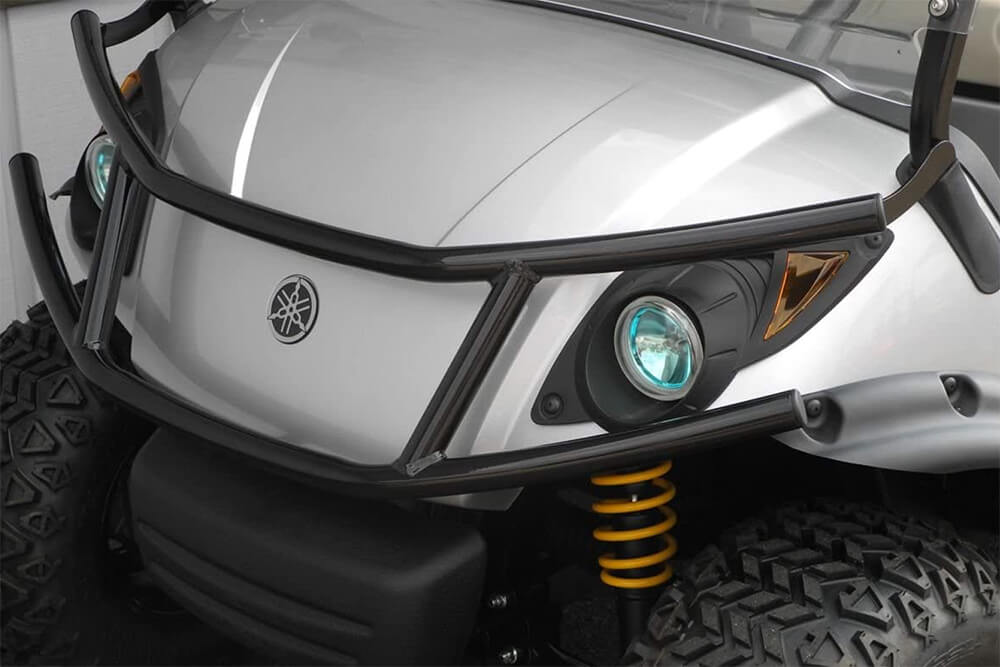 A Golf Cart Brush Guard mounts on the front of your cart to protect the body of the cart, or the "cowl" in cart-talk. But aside from protecting your golf cart's body, it gives your golf cart the ultimate rugged, off-road appearance. Matching Golf Cart Rocker Panels for added customization is highly recommended because it will make it easier for passengers to hop in and out of the golf cart.
Light The Night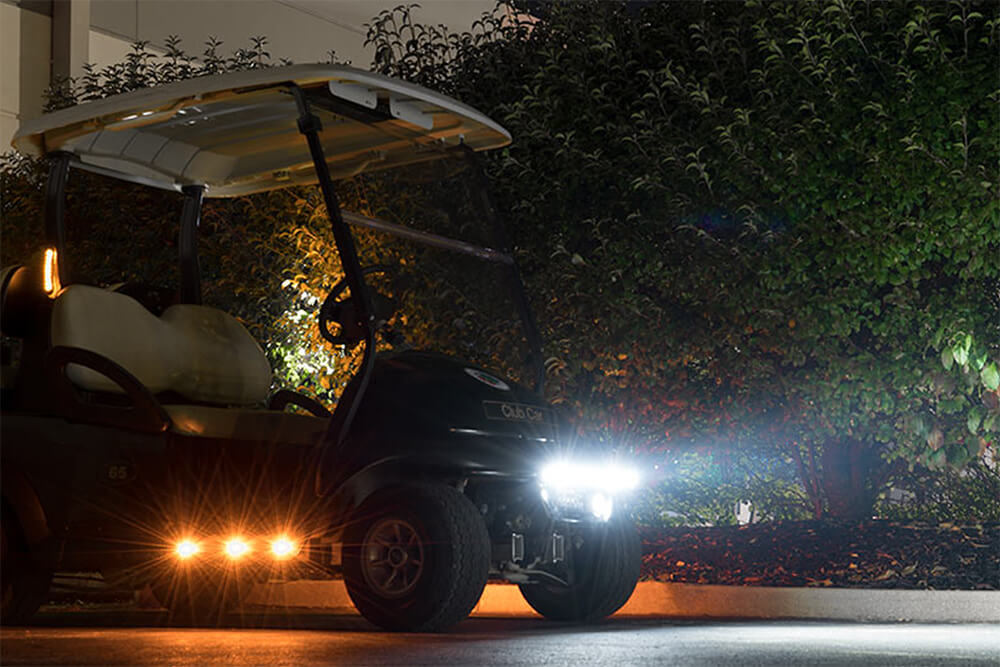 If you plan on revving along trails and paths in the dark, then you will definitely want to be equipped with LED lights for your golf cart. LED Lights / Golf Cart LED Light Kits not only help YOU see, but more importantly, they ensure that other vehicles and pedestrians will see you coming. It is super dangerous to drive your golf cart late at night or early in the morning without the presence of some lights on your golf cart.
Some super popular lighting options for lighting up the night with your golf cart:
Bright LED lights for golf carts are not just for the farmer who is up before dawn, tending to his animals and crops. A little extra illumination for anyone, regardless of how you use your golf cart, is a definite must.
Cold Beverage Keeper
On the golf course, you can usually find a beer cart or snack cart to provide you with cold drinks, snacks and other refreshments. But what about when you are out hunting with the guys or off the beaten path? No need to go hungry or be thirsty when you are out in the middle of nowhere! Suite up your golf cart with a Golf Cart Cooler. Because space is generally pretty limited on the golf cart (especially, if you have extra passengers), golf cart coolers have been designed to easily mount on your golf cart, out of the way, as not to take up valuable seating. Keep your drinks icy cool and your sandwiches from going soggy and enjoy a cold one wherever you are!
Extra Seating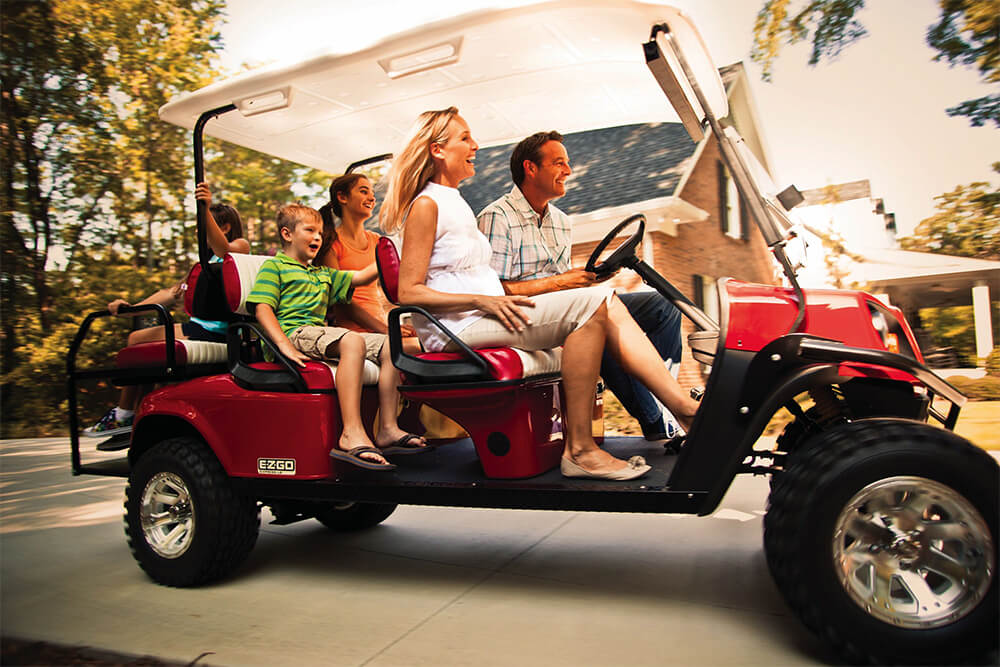 Golf Cart Rear Flip Seat Kits give any Club Car, E-Z-GO or Yamaha golf cart that really snazzy look. Most stock golf carts do not come with additional rear seating for golf carts so, adding a rear seat kit for golf carts is a definite must. Not only do rear flip seat kits look awesome on your golf cart, but it also allows you to carry more passengers. The more the merrier! Also, rear flip seat kits for your golf cart fold down to give you a flat bed / surface for carrying and hauling stuff like:
Horse / Animal Feed
Flowers / Gardening Tools
Boxes Of Party Decorations
Wood
And so much more! The possibilities are truly endless!
Pump It Up
I think we can all agree that listening to music while cruising is the best. There is no better feeling in this world, than riding along, warm breeze blowing through your hair, enjoying the sunshine, with your favorite tunes on the radio. But most golf carts, especially used, do not come with any options for pumping up the jams. No fear! A set of Golf Cart Bluetooth Speakers will do the trick! You can bump your favorite classics with you wherever you go. Give yourself that old time rock and roll anytime, anyplace!
Prepare For Winter
Not just for spring, summer and fall-time golf games anymore. Golf carts can be used year-round, rain, shine or snow! Yep, you heard that right. Snow! However, using your golf cart in the winter means that you need to have your cart suited with the proper gear. A couple of must-haves for winter golf cart riding weather:
Customizing your golf cart so that it is comfortable, even in the chilliest, coldest weather is a breeze and gives you the freedom to use your cart all year long. You can even put a little snow plow on your golf cart (make sure and check how this affect's your golf cart's warranty). Yes, this CAN be done! Most folks that have snow plows on their golf carts use them around the neighborhoods or to clear snow off of golf cart specific trails. If not for a golf cart, those golf cart trails and golf cart specific roads would not be able to be plowed as they cannot accommodate a full size vehicle. Is there anything a golf cart cannot do?!
What are your favorite / recommended golf cart upgrades? We would love to hear from you anytime at Support@GolfCartGarage.com!
Further Read
Club Car EZGO & Yamaha Common And Most Ridiculous Uses
Commonly Replaced Golf Cart Parts